Beauty Services
It's amazing what a difference an extra ordinary Hand and Foot Treatment can make. For skin feeling softer and smoother, may we recommend…
Fantastic Hand Paraffin care
An intensive hand treatment with extra nourishment & fortification from Peach with Aloe Vera Wax will leave your hands restored and soft.
Fantastic Foot Paraffin care
Be inspired, Relax and enjoy; your Feet are gently treated with Lavender and Grape seed wax. The session will leave your feet softer, fresher and stimulated.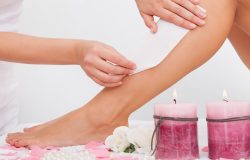 This special spa treatment removes unwanted hair quickly and gently. Our experienced Estheticians are fully trained in professional techniques, for the upmost comfort, courtesy and care.
Arm wax Underarm wax
Bikini Line wax
Half Leg wax
Full Leg wax
Back waxChest wax